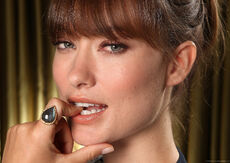 Born on the planet of Argai to Leila Jaed Waryn in Year -9, Crislyn and her sister Keeya grew up well-off and have been close ever since.
To learn more about my past, please follow this link to my biography datafile: Crislyn Anessa Waryn
Sincerely,
Waryn Family Databank
Edit
Founder of the Waryn Family Databank, Crislyn has become the official family historian and spends a lot of her spare time sifting through datafiles in search of more information about her family. Currently, Crislyn is in the process of investigating her family's roots on the infamous planet of Kaon in the Tion Cluster , where many sources have stated her father, Aydyn Dylak Waryn is from.
My favorite pages
Edit
Community content is available under
CC-BY-SA
unless otherwise noted.